Orlando Meeting Facilities with Style
Avanti International Resort includes two adjacent meeting spaces, the Presidential Suite and the Governors Suite. These spaces can be booked together or separately. The full space can accommodate up to 296 guests. Select from theater, reception, and classroom-style setups.
Book Our Event Space for:
Conferences
Corporate Meetings
Bridal Showers
Weddings
Family Reunions
Anniversaries
Retreats
Executive Meetings
Seminars/Trainings
Social Events
Baby Showers
Quinceañeros
Birthday Parties
Available Services for Event Venues in Orlando
Two venues: Presidential Suite (1,706 square feet) and Governors Suite (1,374 square feet)
Total venue capacity: 296 Theater, 176 Reception, 132 Classroom, 60 U-shaped reception; 166 theater format
Modern décor
Convenient access to the airport and Orlando attractions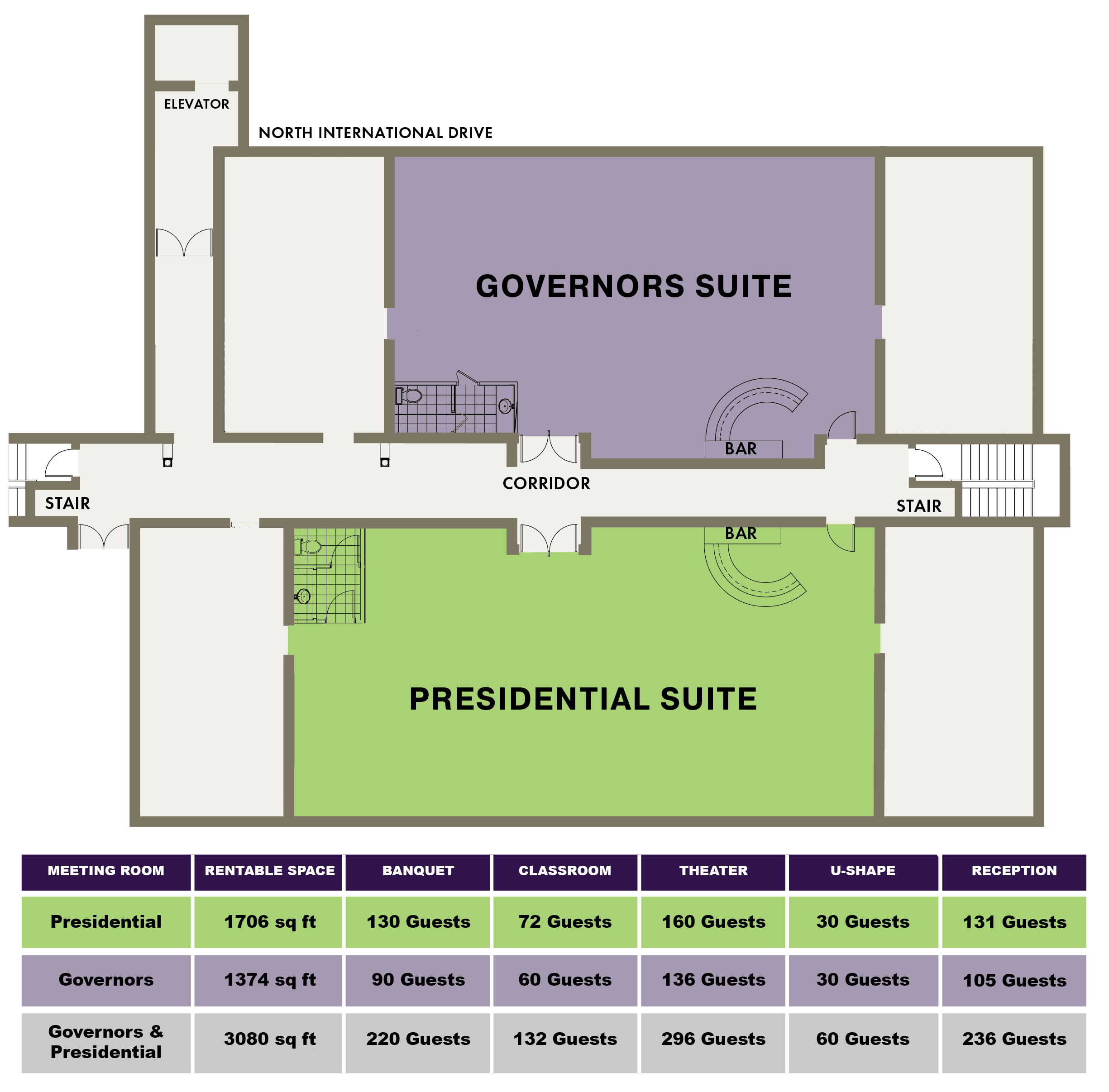 What Our Guests Are Saying
"Avanti International Resort is a great place to rent meeting spaces/large conference rooms. The Governors Suite and Presidents Suite and both very nice, clean, and updated/modern. They both have a large flat screen TV, and each space has its own bathroom inside the suite. The staff is friendly and helpful. The business office staff (Jeylyn and Kiaraliz) are outstanding--very professional and very responsive. If you are looking to rent conference/meeting spaces in the heart of Orlando's International Drive, you will not find a better value. I highly recommend Avanti International Resort." - Smith
Trip type: Traveled on business.
---
"We went our family vacation May 3-7. It was 33 of us. 13 rooms. We had a amazing time. The staff was great. The food at the bar was good. The pool was outstanding. Nobody wanted to come back home. We looking forward to going again next year. Thanks for making everyone trip enjoyable." - Aisha W.
Trip type: Traveled with family
---
"Great Service as we hosted our football group and we all enjoyed the stay! Pool with Pool Bar and grille. Great for family and all ages. Great location with everything in walking distance. Great Service as we hosted our football group and we all enjoyed the stay! Would come again and great for groups." - Michael Q.
Trip type: Traveled for sport tournament
---
"Every month we do seminars at the Avanti International hotel our experience has been fantastic and wonderful all our events have been of a very high quality thanks to the Avanti International hotel.

In this last opportunity, Mr. Jorge Torres, who was our host, has been very kind and efficient in solving every detail of our event. Thank you sincerely.

Thanks also to Jeylyn Perez for always being attentive to our arrival. She always looks for a way to make everyone come out happy. Thanks." - Joicy Nails
Trip Type: Monthly Conference
"Employees tend to perform when they know that there is a sense of meaning behind their efforts. Thank you for your commitment to your job and the work you do to achieve success.
Thank you for going the extra mile with every little detail plus also being reliable. Your accessibility plus immediate response to our concerns was amazing. You availed yourself in every step of the way. The way you took the lead to assure our guest rooms were pre-checked was a phenomenal display of your love and values of your position. Your ability to resolve our concerns was quick, timely, and with instant call back with answers.
Your 'can do' attitude was contagious and it really embodies your dedication and understanding. You went above and beyond your expectations which was a big key to the event's success. The quality of hospitality, customer service expertise, knowledge, and strive to satisfy was empowering. I truly appreciate your Professional considerations, patience, guidance, help and time. It has been a satisfying delight working with you and I am looking forward to working together for future events." - Beverly Crampton
---
"I had a bridal shower inside of the presidential conference room there and it was great. Excellent service and very clean. The event specialist Jeylyn was very helpful and super sweet. I highly recommend you hold your next event there!" – Antoinette J.
---
"The entire staff including but not limited to Jeffre, Lina, Nanette, Mike, Emma, Dondre, Domingo, Amy Lee, and Eduardo go above and beyond the call of duty on a daily basis !! We have a large group with everchanging schedules and they accommodate every need !! I would also like to mention Danny, Luis, Maria and Vicky. The Resort is clean and maintained due to their unwavering efforts, with super amenities and very comfortable rooms. I would recommend this amazing resort to anyone of my family or friends as well as business associates if the need ever arises." - Rick B.
---
"Excellent hotel with excellent location located the center of I-Drive popular locations Extremely clean & comfortable . Upon arrival we were warmly welcomed by the friendly reception staff, Lee made our trip more interesting with her advices & tips about the city, supermarket, shops, restaurants bars are within walking distance.
Her personal touch to detail and constant attention to ensuring my stay was comfortable. Jeylyn, Amy and Eduardo was very accommodating to our corporate group and handle any request with a smile. I would definitely recommend this hotel to everybody and group parties! It's a true sample of excellent hospitality. Thank you again Avanti for going just that little step extra for the guests!! Yolanda you have a great team!" – Center of Popular Democracy
---
"If you are thinking about booking your business event at Avanti, do yourself a favor and please do! This resort is beyond incredible. My company chose Avanti to host our annual conference of more than 150+ people, and could not have been impressed/ grateful to have made this decision. The sales team (Debbie, Jeylyn, and Lianna) went above and beyond to meet our groups needs, including providing gift baskets for our entire staff upon arrival, and surprising us with a mini picture booth for our guests on the last day. I was given the pleasure of working with Debbie for 3 months leading up to the event, and am extremely grateful for her diligence, patience, and overall hospitality.
I also want to shout out the amazing catering and cleaning staff (Lina, Dondre, Octavio, Flavio, Jose, Jorge, Rosalba, Rosa María) who throughout the entire event we're incredibly kind and attentive to our needs. Their kindness was an extra special touch that made us more happy to have chosen the Avanti for this event.
Our guests genuinely enjoyed the rooms, pool, and the hospitality of the staff at Avanti- and we are so grateful to have had this event here!" – Center of Popular Democracy
---
"Thank you for a great visit! The group of parents I was with also had a wonderful time and one even commented saying it was the best volleyball trip they had been on. The girls enjoyed the volleyball court, hot tub and pool. The adults took full advantage of the bar. I think our tabs reflect that, lol. We play on two different clubs, so I will be suggesting your resort to both." - Rodney Wilhite, Panhandle Elite
---
"From the first call I made to get group rates for 12 rooms for our party, the staff Debbie and Lianna was spot on! We received awesome rates and it was easy for my group to book! Check-in for our group was easy and fast! The rooms were big, spacious and clean. The entire staff at Avanti, from housekeeping to the bartenders all wonderful! The pool area was also very nice! We had a blast at this resort and would def book again!!! KUDO's for making our party awesome!" - Lisa & Xavier, Bachelor and Bachelorette Party
---
"One of the things I look for in an accommodation is it's ambiance, because I like to take a lot of footage whenever I can. Avanti was the host hotel for attendees of the 2019 Ubersoca Cruise that occurred this November. I went on boat 2, so was at the pre-pool party the second week of Nov and the hotel is beautiful. I enjoyed staying by the pool." - Ubersoca Cruise Passenger
---
"We had an amazing evening celebrating a birthday in Avanti's private banquet room. From the location, the team members, the food and the ambiance, it was the perfect spot for a small family & friends party. Debbie in event planning is the best!! Thank you all for wonderful, memory filled event!" - Cynthia, Chris's Birthday Party
---
"It was a excellent event and a great opportunity to know your hotel and the quality of your service." - Carlo Barbier, Brazilian Chamber of Commerce Meeting Attendee
---
"Thank you for welcoming our CFBACC members and guests to your hotel. It was a very organized event!" - Elisiane Ramos, Brazilian Chamber of Commerce Meeting Attendee
---
"Excellent event and very well organized with good Brazilian taste." - Luiz Henrique M Teixeira, Brazilian Chamber of Commerce Meeting Attendee
---
"This place is awesome, the staff are very friendly and very nice. I had a group of 25 people stay here and they all had fun! Close to everything, walking distance to great restaurant and stores. Shout out to Lianna and Debbie for helping me with all the room reservations, meeting space and food! Love the sand volleyball court, the swimming pool is big enough for everyone and they have a nice kid's area. The food is great and affordable! Great on-site amenities such as shuttle to theme parks, great food and drinks, clean and Starbucks® on-site! Great atmosphere and location, walking distance to everything." - Mark Subido, Pack-Size
---
"Wonderful stay and Amazing Staff! -- The Avanti International Resort's staff has been amazing, planned a large party booking over 50 rooms. The staff was amazing from the time I booked the party till the time we checked out, The sales coordinator Lianna took care of every question, helped me with everything. She really made this an great experience. The front desk staff was so nice, and everyone knew me by name. they were able to take care of every request. We spent some time at the bar by the pool, our bartender Jackie was awesome. She keep the drinks flowing and the good times going. I would recommend this resort to everyone! Already planning next years event at the Avanti resort!!! Thank you Avanti!" - Sandy, Amerilife
---
"Lianna Chahin and Debbie Goodrich did a fantastic job with everything necessary before, during and after the rental of the meeting space. I highly recommend anyone wanting to conduct business meetings to use Avanti for their business needs." - Tom K.
---
"Just coming to the end of a 10-day stay in the Avanti International Resort. I first made contact with the sales team a few months ago as I needed to book an event for 30 people. I was so impressed on how they manage large groups. Lianna provided excellent customer service and dealt with all my queries in a timely manner. When we arrived after our long flight, all the rooms were ready and cleaned to perfection.
The resort has all you need for a great holiday, the pool is amazing! Even on a chilly day, the pool was nice and warm. The Pool Bar and Café were great. It was a treat having Starbucks® coffee on-site. Our rooms were all very well organized and cleaned daily, any small issues were addressed very quickly! I would strongly recommend the Avanti International Resort for all types of holidays and group events!" - Catherine, Keating Amenity Solutions